Virginia Tech Kentland Experimental Research Farm, McCoy, Va.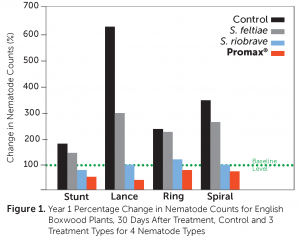 This two-year trial aimed to assess the suppression effects of PROMAX® and 2 types of beneficial nematode treatments (S. feltiae and S. riobrave) versus a control on plant-parasitic nematodes (Stunt, Lance, Ring, and Spiral) for English Boxwood (Buxus sempervirens L. var. suffruticosa) ornamental plants.
The results reported in this trial demonstrate that application of 1 treatment of the nematicide PROMAX® reduced population percentages of the 4 plant-parasitic nematodes studied at both 7 days and 30 days post-treatment in years 1 and 2, with PROMAX® being more effective than the other 2 treatments studied for both time periods. This is an indication that PROMAX® suppresses nematodes by killing them on contact.
Repeated applications may be required to achieve suppression for periods longer than 30 days.
To learn more about purchasing Huma Gro® Turf products, please click here.