Summary
The following research report compares increased moisture infiltration with the use of FERTIL HUMUS® at different rates and timings. It was conducted in the southern portion of the Columbia Basin in Washington State. The field, which had sandy loam soil, was pivot-irrigated as a broadcast spray, incorporated. All treatments were replicated four times in a complete randomized-block plot design. The time it took for a measured acre-inch of water to penetrate into the soil was recorded for each replication in each treatment. The times for each replication were averaged so that the influence of the treatments could be compared.
Results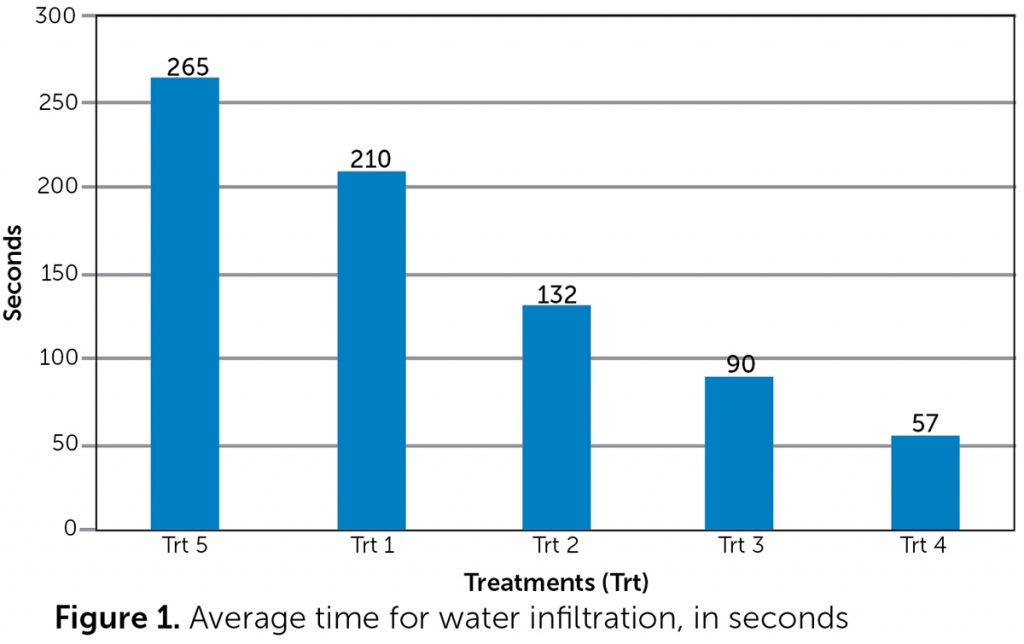 Trt 1: 1 pint/acre FERTIL HUMUS
Trt 2: 2 pint/acre FERTIL HUMUS®
Trt 3: 4 pint/acre FERTIL HUMUS®
Trt 4: 2 pint/acre FERTIL HUMUS®, followed 2 weeks later by another 2 pints/acre
Trt 5: The Grower Standard Treatment (Untreated Check)
Conclusion
Application of FERTIL HUMUS® reduces the amount of time required for water to enter the soil surface, which is beneficial in terms of reducing the risk of soil erosion, fertility movement, and evaporation loss. It also aids soil aeration and moisture uniformity within the field.
Read the entire Research Report here.